SafeStick Secure USB Flash Drives
What Is SafeStick?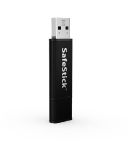 SafeStick is a secure USB flash drive that instantly protects all stored data automatically with hardware encryption and a strong password. You plug SafeStick in and set your own password. This strong password is then the only thing that can give access to the data you store on SafeStick (password management is available with SafeConsole). By switching to SafeStick and replacing your unsecure memory sticks, USB keys and giveaway usb flash drives, you can start safeguarding your confidential data instantly.
Why Choose SafeStick?
There are many good reasons for using SafeStick as your secure USB flash drive solution.
Instantly secure portable data with always-on automatic hardware AES256 CBC encryption.
Easy-to-work-with, easy-to-set-up, flexible self-service deployment for larger organizations.
Strong, tough, built-to-last metal exterior.
Fastest startup times and the best flash storage components.
Locks down if left behind, using an adjustable timer lock.
Manageable on an enterprise scale with SafeConsole, offering remote password resets, remote kills of rogue drives and much more.
SafeStick Technology
Military-Strength Hardware Encryption
The SafeStick hardware controller encrypts all data using AES256-bit encryption in CBC-mode. Encryption keys are generated on board at user setup, and all communications are encrypted. SafeStick is protected against autorun malware, and onboard active anti-malware is available. Once unlocked, SafeStick is as simple to use as a standard USB flash drive.
Quick Startup and Easy Setup
You can unlock a SafeStick drive in as little as one second after plugging it in. The optimized configuration startup time on first use makes SafeStick drives the fastest and simplest to set up. The responsiveness and speed of SafeStick devices are important for a positive user experience, which is essential for achieving user acceptance of enforced and elevated security measures.
Hardware Brute-Force Protection
SafeStick offers true brute-force protection, with a password attempt counter built into the hardware in order to protect against password attacks.
No Installation, No Admin Rights Required
SafeStick devices do not require any software installation or admin rights.
High-quality Storage
SafeStick has the longest life span of any USB flash drive, thanks to built-in ECC and wear leveling. The ECC hardware on SafeStick ensures that transfer speeds are high and that accuracy and life span of stored data are maximized.
Compact, Robust and Epoxy-Sealed
SafeStick devices are designed to endure wear and tear, and they fit even where port space is minimal. The circuitry is sealed with epoxy, giving SafeStick superior weather resistance and making the hardware completely tamperproof.
Social-Engineering Protection & Timer Lockdown
The manageable Timer Lockdown feature ensures that forgotten or misplaced drives do not cause data breaches. SafeStick reminds users upon logout if their drive is still inserted, and it alerts the user if there have been previous faulty login attempts on the drive.
A Long-lasting Investment
SafeStick drives are fully upgradeable, so when new features are released or when there are changes in operating systems or the threat landscape, SafeStick drives never miss a beat, making them a long-lasting investment.
Mac OS Availability
SafeStick is compatible with the Mac operating system, extending its availability to both PC and Mac users. With traditional Mac users, including architects and media industry executives, SafeStick will ensure that concepts and designs that provide a competitive edge are always protected.
Screenshots of the SafeStick Zero-Footprint Software
SafeStick Extended Features Available With SafeConsole Central Management
Users are treated to a host of features and benefits when managing SafeStick drives with SafeConsole.
The ability to enforce password policy and configuration changes on  all SafeStick drives in your organization.
Secure and prompt password recovery, allowing the user to get back  to work in just minutes.
Factory resets or disables of lost drives over the Internet, leaving nothing to chance.
Self-service automatic coupling and listing of each user and his or her unique SafeStick drive (integrated with the organization's active directory).
The ability to heighten user acceptance and enhance productivity via optional automatic unlock of SafeStick on trusted accounts.
One-click login from SafeStick to configurable Web services such as Outlook Web Access (OWA), webmail or intranet.
Secure and central deployment of content and applications; this feature works with MokaFive, PortableApps, Ceedo, VMware and two-factor authentication software tokens (Deepnet).
A "return to owner" display message on lost SafeStick drives; recovered SafeStick drives that are inserted into the correct user account are automatically "found," thus lowering administrative costs.
The ability to link a SafeStick with a new user after a reset, making it possible to recycle drives within the organization
Benefits
Hardware-encrypted secure USB flash drives that can be centrally and granularly managed are the most cost-efficient way of handling USB flash drive security. Organizations that use SafeStick hardware-encrypted secure USB flash drives enjoy a multitude of features and benefits, including the following:
Ability to secure portable data instantly with always-on automatic hardware encryption AES256-bit in CBC-mode, which is far safer than ECB block cipher mode.
Transparent encryption that won't disturb the user when handling files.
True brute-force protection with a built-in password-attempt counter.
Epoxy-sealed, tamperproof SafeStick device controller that handles all security features, making it superior to and more reliable than multiple-chip solutions and software attempts.
Unlock in as little as one second after plugging SafeStick in.
Optimized configuration startup time; no other secure USB flash drive is as fast or  as simple to setup.
No need for drivers, installations or administrative privileges.
Authorized Autorun feature, which ensures that Conficker and Conficker-type mutants cannot infect devices.
User alert system tracks faulty unlock attempts, making the solution aware of social-engineered attacks.
Timer Lockdown locks forgotten or misplaced devices.
SafeStick Technical Specifications
Hardware Encryption
AES256 algorithm (256-bit AES is the square of the strength of 128-bit, and thus over a million times more secure). RSA1024-protected communication. The epoxy-sealed single SafeStick microprocessor chip handles all security features, making it superior and more reliable than multiple-chip solutions and software attempts.
Available SafeStick Storage Sizes
1GB, 2GB, 4GB, 8GB, 16GB, 32GB and 64GB
Supported Languages
Danish, English, Finnish, French, German, Italian, Polish, Portuguese, Russian, Spanish and Swedish
Measurements and Weight
SafeStick is compact and robust. It fits even where port space is scarce.
9 grams (0.32oz.), 56 x 18 x 6 mm
Environmental Laboratory Tests
Waterproof. Meets MIL-STD-810F specification
Operating temperature 70°C to -5 °C (158°F to 23°F)
Storage temperature 85°C to -25°C (185°F to -13°F)
Shock 15G peak to peak
Certifications
USB 2.0 (1.1 comp.), CE, FCC, RoHs, WEEE
Production
SafeStick is produced in a fully automated ISO-certified production process. The production is without manual steps. This ensures the security and high quality of each device. Our production process also ensures a large and scalable delivery capacity.
SafeStick Requirements
Fully compatible with Windows 7, Vista, XP 32-bit, 2000(SP4), 2008, 2003
Fully compatible with MacOS X 10.4 (BM7741), 10.5 (BM7741, BM9930), 10.6 (BM9930)
Linux requires Windows in VMware
SafeConsole Requirements
2GB RAM on server. Windows or Linux.
Client computers must have access to SafeConsole server.