What Is a SafeConsoleReady Secure USB Flash Drive?


A SafeConsoleReady Secure USB Drive can be managed by the SafeConsole central device management server software. SafeConsole helps organizations achieve compliance with powerful auditing capabillities, assists users with forgotten passwords and much more.
Check out what is new in the latest release
---
SafeConsoleReady Secure USB Device Core Features

Mandatory Password Protection
Stored data is protected by an enforced password following a strong password policy. Secure password resets are available with SafeConsole for administrators to assist users.

Hardware Encryption of all data
Automatic, full hardware encryption of 100% all data, featuring a single on-board security chip that can't be bypassed and encrypts all data copied to the drive.
---
Hardware Brute-Force Protection
Offers true brute-force protection, with a password attempt counter built into the hardware in order to protect against password attacks.

Portable Standalone User-Mode Software
User-friendly software is used to unlock the devices. The software does not require any installation or admin rights.
---
It Takes Secure Hardware to Achieve Real USB Security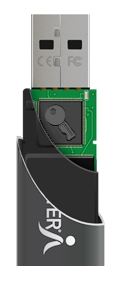 Unsecure USB Drives Spread Malware
The Confickr infection and other malware that spread over the
Sneakernet (download on a USB and walk the infection over to the next machine) remains the most serious malware issue according to Sophos latest 2012 Threat Report. SafeConsoleReady secure USB drives fight malware.
Unsecure USB Drives are Data Leak Tools
The USB drives is the tool of choice for data thieves. It is not only the high profile data leaks and those that have been posted on WikiLeaks that utilize unsecure USB drives to steal data off networks. When IT workers where polled in a survey 60% stated that the USB drive would be the tool of choice. SafeConsoleReady secure USB drives are audited and can be remotely killed by the organization using SafeConsole.
Unsecure USB Drives Cause Data Breaches
71% of USB drives that store business information remains unguarded by passwords or encryption. 65% of people losing USB drives do this without notifying appropriate authorities about the incident. Gartner indicates a strong growth on unsecure USB flash drive sales for years to come which means there will be an influx of potential data breaches. SafeConsoleReady hardware encrypted secure USB drives enforce protection of all stored data.
of unsecure USB drives are lost. 84% are later found by someone else.
Resources [PDF]
Device Security Overview - Available on Request
---
Find Out What Is On Your Network With DeviceDiscovery (Free Tool)
Track the usage of all USB connected removable storage media within your organization with the free command line tool DeviceDiscovery. DeviceDiscovery searches through and generates a report containing all devices used within the entire domain, when they were last used and and on which computers. Included with your SafeConsole Trial.