Solution Overview
A SafeConsoleReady secure USB drive uses a password and hardware encryption to protect all stored information automatically. This technology ensures that your sensitive data is always kept private and that data breaches are avoided altogether. But it takes more than just a secure USB drive to ensure that your data is safe.
SafeConsole is the only secure USB management platform for secure USB drives that has true password management (remote and local) and that integrates fully with LDAP (for on-premise installation). Also available as a service in the cloud.
Rated 5 stars by SC Magazine.
Check out what is new in the latest release
Start Your On-Premise Trial Today
Trial SafeConsole Cloud SaaS Now
Request a technical call to investigate your requirements. Email [email protected]
---
Resources
The resource section includes everything you need to make an informed decision on managing secure USB drives.

Datasheet, Technical Manual and Purchase information
Guides, Best Practices and Reports
---
Select Benefits

Assist forgotten passwords
Reset forgotten passwords using a secure, local self-service or a central help desk challenge-response procedure.
Automatic inventory
Get an automatic inventory directory listing all users (optionally from LDAP Active Directory) and their devices. As with all functioning inventory lists, this will limit waste of devices and assist you when assigning previously used devices to new users.

Full Audit for Compliance
Enforce accountability and assist compliance efforts by activating a full audit trail on all device actions and file changes.
Enforce policies
Enforce your security policy. By ensuring that stored data is protected with a password that meets your safety standards. Limit or eliminate the risk of USB devices introducing malware onto your networks and much more.
Get users back to work
Re-create data from a lost device onto a new, off-the-shelf device by centrally pushing the existing backup package onto the new unit at the user location.
Remote kill
Centrally handle the state of the devices over the Internet, setting them as disabled or lost- even perform factory resets remotely. Disable a user in AD and their devices are automatically disabled.
---
Easy and Rapid Deployment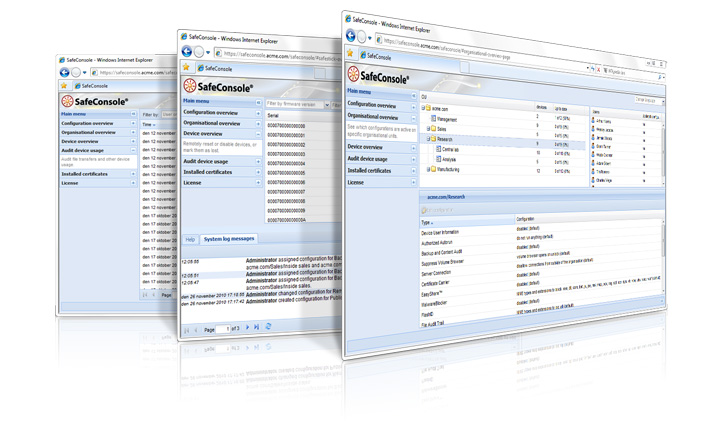 SafeConsole offers an easy and efficient roll-out scheme for both small and the largest organizations optionally connected to LDAP (AD). Administrators can authenticate to access SafeConsole with their AD credentials. Start with installing SafeConsole on your server and go on to deploying drives to users, and you will gain full management control from day one. Each unique device is registered to a specific user in SafeConsole and linked to the user in the corporate directory (if available). The all-in-one installation has the power to serve large device deployments in the thousands if required.
---
DeviceDiscovery Free Tool - Included with the SafeConsole Trial
Track the usage of all USB connected removable storage media within your organization with the free command line tool DeviceDiscovery. DeviceDiscovery searches through and generates a report containing all devices used within the entire domain, when they were last used and to which computers they have been connected.
---
Features by Category
---
Device LockOut Port Control - Trial included with SafeConsole
By disallowing ordinary USB flash drives Device LockOut is a quick and easy way of closing the door on the biggest emerging threats, including viruses and trojans such as Conficker.
Device LockOut can be setup to allow only your organizations identified SafeConsoleReady Devices for USB storage onto your network. Device LockOut also handles granular exceptions to your policy to allow any USB storage device. Each machine can have their unique settings pushed out with a GPO.
---
Requirements and Technical Details
Web browser to access the administrative interface. Internet Explorer 7+ , FireFox 1.5+ (PC, Mac), Safari 3+, Opera 9+ (PC, Mac), Chrome.
On-premise installation
Windows 7+. 4GB RAM on server. 50GB disk. All other required software included.
SafeConsole Cloud deployment
Each customer has their own private virtual server maintained, updated and hosted by BlockMaster with Rackspace Cloud. The feature set has some differences to the on-premise version. Compare Editions of SafeConsole Pricing/Feature (SKUs) [PDF]
Supported Languages
English, French, German, Spanish, Polish.
Supported Devices
CTWO Products; SafeXs
CTWO Products; SafeXs FIPS
CMS Products; CE-Secure Vault (CE-S V)
CMS Products; CE-Secure Vault FIPS (CE-S V FIPS)
Giesecke & Devrient Secure Flash Solutions; SafeToGo
Giesecke & Devrient Secure Flash Solutions; SafeToGo FIPS
Kingston Digital; DataTraveler Vault Privacy - Managed (DTVP-M)
Kingston Digital; DataTraveler 4000 - Managed (DT4000-M)
BlockMaster; SafeStick
BlockMaster; SafeStick FIPS
BlockMaster; SafeStick SuperSonic
Active Directory, Group Policies
Optionally reflect an existing Active Directory or other directory service. Assign configurations to Organizational
Units by simple drag-and-drop.
Compare Licenses and Editions - Get Pricing and SKUs
SafeConsole is available in a number of editions and licenses, request SafeConsole Pricing/Feature (SKUs) [PDF] to make your selection.
---
SafeConsole Feature Animations
---