SafeXs™ secure USB flash drives from C TWO Products comes in a wide selection that utilizes the certified and proven technology and software from BlockMaster. this next-generation, smart USB drive combines 100% hardware encryption with the ability to connect
to the SafeConsole remote management system. SafeXs is available both in USB 2.0 and a USB 3.0 version for the highest speed. Furthermore the SafeXs XT edition is the most rugged device on the market, strong enough to pull a London double-decker bus by the key chain holder. To complete the portfolio a FIPS 140-2 SafeXs FIPS is also available to meet the highest certification criteria.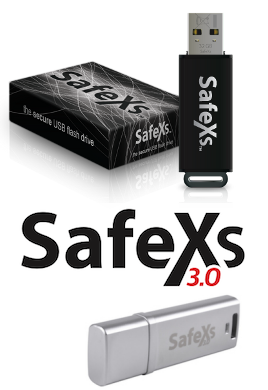 SafeXs - A small and easy way to protect your portable data
When storing high-value data, the tamper-proof SafeXs is perfect for your organization. the epoxy coating of the chip and flash protects it from physical intrusion from water, dirt and thieves.
Add to this the many features and speed of BlockMaster's on-board, zero-footprint software, and you can rest assured that you never have to suffer from the often devastating consequences of data breach or a broken device. SafeXs editions available: SafeXs 2.0, SafeXs FIPS, SafeXs 3.0 and SafeXs 3.0 XT.
---
Learn More
SafeXs Product Page
SafeXs 2.0 Datasheet Download
SafeXs 3.0 XT Datasheet Download
Where To Buy (UK)